Mankind = Human form = has the most CREATIVE POTENTial so Jehovih God prefers to dwell in (operate through) that form (form follows function).
Because of the inverse square law of physics the Creator would have to be everywhere (omnipresent) to be
all-powerful
, because if the Creator would be located in just one local area it's light intensity (power)
would decrease by the square of the distance from the source, if you double the distance the light intensity
would be half. And if the Creator's light or intensity (power) does not decrease or fall of in any part of the
infinite universe, then you would not be able to tell the difference of where the Creator is and what shape
the Creator has, so this is why an all-powerful Creator would have to be everywhere (omnipresent), and would
not change or decrease, and would not have a shape or form.
Oahspe Book of Inspiration Chapter I:
1. ...I am Light;
I am Central, but Boundless
, saith Jehovih.
["I am the center of My universe of Me. Everywhere I am is the center of all things, and I am everywhere." Thus saith
the Universal One
, Father-Mother of the heavens and earths" - page 16 of THE MESSAGE OF THE DIVINE ILIAD VOL.1 by Walter Russell, 1948.]
God's omniscience, omnipotence and omnipresence

are centered in the consciousness of every man; but few there are who know of the Oneness of their Self-Soul with the Universal Self-Soul

.
- The Secret of Light by Walter Russell

Oahspe Book of Cosmogony and Prophecy ch 2:
26. one light, with a central focus. [The Father-Creator is One Boundless Light with a central focus, his central focus is man. Man is the focal point of the Father God]
2. I give thee of My Light; and when thou hast received, thou criest out: Behold, I am wise!
[Man calls himself, his species Homo sapiens [New Latin Homo sapiens, species name : Latin homo, man + Latin sapiens, wise, rational, present participle of sapere, to be wise.]
3. Thy corpor I made, in which to localize thee; to mature thy entity.
[Jehovih is non-local or Omni-present. Before our creation we had no seperate, individual, identity, we were non-local, our corpor gives us a local seperate identity where we can develope and grow, yet in REALITY we are still connected as One. See Quantum Physics EPR experiments on the Kosmon Era, Kosmon People page]
4. Without Me, thou hadst not come to life. Thou art as the end of a ray of light from My Person.
5. And thou art focalized in thy corporeal body.
6. I am to thy spirit, as is the sun to a ray of light. I am the Light that illuminateth thy soul.
[See Direct Inspiration, Walter Russell page]
7. The ray of light that goeth out of Me, taketh root in mortality, and thou art the product, the tree.
8. Thou wert nothing; though all things that constitute thee, were before.
9. These I drove together, and quickened.
10. Thus I made thee.
11. After the manner I made thee corporeally, so made I thee spiritually, intellectually.
12. As out of corpor I made thy corporeal body, so, out of My Light, which is My Very Self, I built thee up in spirit, with consciousness that thou art.
Chapter II
13. I am the All External; from Me are smaller lights focalized, saith Jehovih.
[Jesus said "the Father is greater than I" - John 14:28. Smaller lights are not to be worshiped, this is idolatry. You shall have no other Gods]
14. A man holdeth a condensing lens to the sun, and he lighteth a fire thereby, but yet the lens contained not the heat.
15. After such manner hast thou accumulated knowledge; yet, no knowledge was of thine own begetting, but all came from Me. I gave it all.
[The Father is the Source of all knowledge, he is the One and Only All-Knowledge]
16. The increase in knowledge now upon the earth, with all the races of men, is only the increase I gave. Man of himself created none of it.
◄ Daniel 12:4 ► of the Bible:
New Living Translation
But you, Daniel, keep this prophecy a secret; seal up the book until the time of the end, when many will rush here and there, and

knowledge will increase

."
Chapter IV
1. When the infant is young, My Light is its first knowledge, saith Jehovih.
2. It seeth Me and heareth Me; and it seeth and heareth My angels.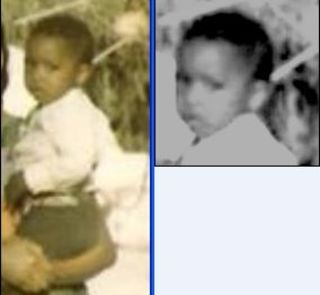 "My son is always looking up at the ceiling when I am changing his diaper ...and asks me what that is. I look up and there is nothing there...My son is 2 1/2." - Erin - posted on 03/01/2010
"i believe you can see your gaurdian angel when you are a child but unfortunatly when we get older our mind closes up to these possibilities." - Michelle - posted on 07/18/2009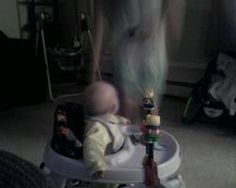 Above: Baby sees ghost-spirit-angel
3. By the pressure of My Light upon its corporeal eyes and ears, it learneth to see and hear corporeally.
4. This is the beginning of two senses, which I created to grow parallel to each other, and equal in strength.
5. But the infant, being in the corporeal world, heedeth more the things that appeal to the corporeal senses than such as appeal to the spiritual senses.
6. So that one person groweth up, forgetting Me and My angels. He is a skeptic.
"i do believe that babies and children are more likely to see spirits. I know when I was younger I did. I was about 16 when everything stopped." - Megan - posted on 03/01/2010
7. But another person groweth up, remembering Me, and My angels. He is a believer.
Do babies see spirits / ghosts / angels ?
<>
Chapter VI
1. I am One Spirit, saith Jehovih.
[Not a creation, not a duplicity, not a Trinity like water 2 hydrogen + 1 oxygen atoms, the Father Jehovih is ONE PERSON, not two Persons, Not three persons]
5. And as to man: One is inspired to music; another to mathematics; another to seership, and so on.
6. To all of these I am the One, the Universal Inspirer that moveth all of them.
2. My quickening power is upon all the living; because of this, they live and move.
3. According to the different structure of the living, so is My inspiration manifested by them. [form or structure follows function,man and animals have different forms and functions].

4. One, as the hare, runneth away in cowardice; another, as a lion, is ferocious; another, without judgment, as the serpent.
Chapter VIII
1. Although all inspiration goeth from Me to all the living, directly, yet I also created man susceptible to indirect inspiration from all My creations.
2. Whatsoever receiveth from Me direct, is in harmony with Me.
Chapter VII
17. When man practiceth virtue, wisdom, truth and love unto all, his inspiration is from Me direct.
18. When man practiceth destruction and selfishness, his inspiration is indirectly from Me, through the conflict of his surroundings.
19. And thus becometh he evil, instead of good.
20. By direct inspiration do I move upon all the animals I created.
21. This I also created possible unto men, separate from indirect inspiration.
Chapter VIII
1. Although all inspiration goeth from Me to all the living, directly, yet I also created man susceptible to indirect inspiration from all My creations.
2. Whatsoever receiveth from Me direct, is in harmony with Me.
3. The lily and the rose I created perfect in their order; the female bird I inspire to build her nest in season, perfect in her order.
4. Even so is it with all My created beings, save man. All the rest err not, in the order I made them; and they all fulfill the glory for which I made them.
5. But because I made man capacitated to receive inspiration from all things, he manifesteth both, evil and good; according to his birth and surroundings, so is man good or bad.
6. Nevertheless, I created man with capacity to comprehend this also; for, I designed him, from the first, to work his way up to the Godhead, understanding all below him.
[From Asu who had less knowledge and understanding than all the animals to an Oe'tan maker of worlds, and then to travel (as Eons) in the surveys of magnitudes. Travelers (in the surveys of magnitudes) who notify the Oe'tans of the available places for new worlds, and the time for dissipating old ones. From Asu to Oe'tan to Traveler and Surveyer of magnitudes and beyond understanding all below him]
7. And I sent my angels to man, teaching him how to distinguish the difference in the inspirations upon him, that he might govern himself accordingly.
8. And My angels said unto man: Become thou one with thy Creator; these are His direct inspirations:
9. To love thy Creator above all else, and thy neighbor as thyself.
10. To give delights only, and not pain.
11. To kill not.
12. To do not violently against His creatures.
13. To be considerate of the liberty of all the living.
14. To interdict not the happiness and hope of others, only where thou canst return a transcendent glory and hope in place thereof.
15. For these are direct inspirations from thy Creator.
16. But these are thy evil inspirations, O man, these come from thy birth and surroundings, formerly called, satan:
17. To kill.
18. To slander.
19. To punish.
20. To destroy Jehovih's created beings.
21. To strive for thyself, above another.
22. To gratify thy flesh at the expense of purity or wisdom.
23. To be false to Jehovih.
24. To be false to thyself.
25. To speak falsely.
26. To covet another's.
27. To cohabit in the gestative period.
28. To engage in strife, or to aid and abet conflicts, which are the fruit of carniverous food, transmitted in birth.
http://www.angelfire.com/in2/oahspe3/boi.html
The difference between su'is and hearing the voice of the Creator is indirect and direct inspiration:
Oahspe Book of Inspiration Chapter IX:
10. But thou shalt rely on thine own inspiration from thy Creator.
12. What cometh to thee from a man is indirect inspiration; what cometh from an angel is indirect; and what cometh from the Gods is indirect.
13. No direct inspiration of Me can come to thee from a book, nor a sermon, nor from anything in all My creations, but only from Me, thy Creator.