The term wireless has been used twice in communications history, with slightly different meaning. It was initially used from about 1890 for the first radio transmitting and receiving technology, as in wireless telegraphy, until the new word radio replaced it around 1920.
https://en.wikipedia.org/wiki/Wireless
-
Ancient advanced network of Laser Light Communications from high up in the atmosphere to earth.
Oahspe God's Book of Eskra: Chapter XLIII:
1. WHEN Joshu was grown up, and ready for his labor, God provided a host of one hundred million angels to make a line of light from his Holy Council down to the earth; and they so made it.
2. And God provided a guardian host of two thousand million angels to protect the line of communications; for it was war times in heaven and earth.
-
A long distance line (cable or laser) of light (optics), line of communication, constructed (made like they make their ships), stretching tens of thousands or hundreds of thousands of miles, from one network (space-station) down to another network (earth), an internet of communication.
This wasn't a telepathic communication, this was a constructed line of light (a type of optic cable or laser communication). This wasn't telepathy this was a technological type of communication. This was constructed by 100 million people over a long distance of tens of thousands or hundreds of thousands of miles. Telepathy or su'is is individual to individual, telepathy or su'is is not something that is made (constructed) by 100 million people.
They may have costructed the line of communication out of a finer type of optical fiber cables (nanowire) or more advanced lasers.
Oahspe spoke of this "line of light", "line of communications" more than 80 years before the inventions of lasers. This was a type of all-optical satellite-to-ground communications, similar to the technology NASA is working on in 2013-2014.
-
Oahspe Book of Lika, Son of Jehovih:
3.13. For the
talents I gave on corpor, I gave not to die on corpor, but to continue on forever.
As I gave talent for
corporeal mathematics, and talent for building corporeal structures
, yes, a talent for all things on corporeal worlds; even so have
I provided in My etherean worlds for the same talents, but spiritually
. In which man on the corporeal earth, judging the adaptability of talent to corporeal things,
may comprehend the nature of the labors I provided in My exalted heavens for the same talents.

-
Free-space optical communication (FSO) is an
optical communication technology that uses light propagating in free space to transmit data for telecommunications or computer networking.
"Free space" means air, outer space, vacuum, or something similar. This contrasts with using solids such as optical fiber cable or an optical transmission line.
The technology is
useful where the physical connections are impractical
due to high costs or other considerations.
-
The invention of lasers in the 1960s revolutionized free space optics. Military organizations were particularly interested and boosted their development. However the technology lost market momentum when the installation of optical fiber networks for civilian uses was at its peak.
Many simple and inexpensive consumer remote controls use low-speed communication using infrared (IR) light. This is known as consumer IR technologies.
Space probe design concept using optical rather than radio communication
-
Usage and technologies
Free-space point-to-point optical links can be implemented using infrared laser light
In outer space, the communication range of free-space optical communication[6] is currently of the order of several thousand kilometers,[7] but has the potential to bridge interplanetary distances of millions of kilometers, using optical telescopes as beam expanders.[8] In January 2013, NASA used lasers to beam an image of the Mona Lisa to the Lunar Reconnaissance Orbiter roughly 240,000 miles away. To compensate for atmospheric interference, error correction code algorithm similar to that used in CDs was implemented.[9] The distance records for optical communications involved detection and emission of laser light by space probes. A two-way distance record for communication was set by the Mercury laser altimeter instrument aboard the MESSENGER spacecraft. This infrared diode neodymium laser, designed as a laser altimeter for a Mercury orbit mission, was able to communicate across a distance of 15 million miles (24 million km), as the craft neared Earth on a fly-by in May, 2005. The previous record had been set with a one-way detection of laser light from Earth, by the Galileo probe, as two ground-based lasers were seen from 6 million km by the out-bound probe, in 1992.[10]
Secure free-space optical communications have been proposed using a laser N-slit interferometer where the laser signal takes the form of an interferometric pattern. Any attempt to intercept the signal causes the collapse of the interferometric pattern.[11] [12] This technique has been demonstrated to work over propagation distances of practical interest[13] and, in principle, it could be applied over large distances in space.[11]
-
Applications[edit]
Typically scenarios for use are:
LAN-to-LAN connections on campuses at Fast Ethernet or Gigabit Ethernet speeds
LAN-to-LAN connections in a city, a metropolitan area network
To cross a public road or other barriers which the sender and receiver do not own
Speedy service delivery of high-bandwidth access to optical fiber networks
Converged Voice-Data-Connection
Temporary network installation (for events or other purposes)
Reestablish high-speed connection quickly (disaster recovery)
As an alternative or upgrade add-on to existing wireless technologies
As a safety add-on for important fiber connections (redundancy)
For communications between spacecraft, including elements of a satellite constellation
For inter- and intra -chip communication.[21]
The light beam can be very narrow, which makes FSO hard to intercept, improving security. In any case, it is comparatively easy to encrypt any data traveling across the FSO connection for additional security. FSO provides vastly improved electromagnetic interference (EMI) behavior compared to using microwaves.
Advantages[edit]
RONJA is a free implementation of FSO using high-intensity LEDs.Ease of deployment
License-free long-range operation (in contrast with radio communication)
High bit rates
Low bit error rates
Immunity to electromagnetic interference
Full duplex operation
Protocol transparency
Increased security when working with narrow beam(s)[citation needed]
No Fresnel zone necessary
Disadvantages[edit]For terrestrial applications, the principal limiting factors are:
Beam dispersion
Atmospheric absorption
Rain
Fog (10..~100 dB/km attenuation)
Snow
Scintillation
Interference from background light sources (including the Sun)
Shadowing
Pointing stability in wind
Pollution / smog
These factors cause an attenuated receiver signal and lead to higher bit error ratio (BER). To overcome these issues, vendors found some solutions, like multi-beam or multi-path architectures, which use more than one sender and more than one receiver. Some state-of-the-art devices also have larger fade margin (extra power, reserved for rain, smog, fog). To keep an eye-safe environment, good FSO systems have a limited laser power density and support laser classes 1 or 1M. Atmospheric and fog attenuation, which are exponential in nature, limit practical range of FSO devices to several kilometres
http://en.wikipedia.org/wiki/Free-space_optical_communication
-
NASA
Moonshot Will Test
Laser Communications

NASA launches a moon satellite this week that will test
ultrafast optical data transmission
.
By David Talbot on
September 4, 2013
A new communications technology
slated for launch by NASA this Friday will
provide a record-smashing 600 megabits-per-second downloads
. The resulting probe will orbit the moon and send communications back to Earth via lasers.
The plan hints at how
lasers could give a boost to terrestrial Internet coverage
, too.
Within a few years, commercial Internet satellite services are expected to use optical connections—instead of today's radio links—providing far greater bandwidth
. A
Virginia startup, Laser Light Communications, is in the early stages of designing such a system
and hopes to launch a fleet of 12 satellites in four years.
Laser Light Communications
is putting together components for a commercial system that would
provide all-optical satellite-to-ground
and satellite-to-satellite
communications
. The company aims to supercharge Internet bandwidth around the world with a space-based optical network to complement the global fiber one
http://www.technologyreview.com/news/518826/nasa-moonshot-will-test-laser-communications/
-
Again this "line of light", "line of communications" of Oahspe God's Book of Eskra: Chapter XLIII:1,2 was made (constructed) by 100 milion people, and was tens of thousands or hundrends of thousands miles long, it was a technological line of optical communications that was constructed or made like they make ships:
Oahspe Book of Lika, Son of Jehovih: Chapter III:
2. Lika called his chief builder and said unto him: Build me a fire-ship, an airavagna, with capacity for a thousand millions; and provide thou the ship with officers and workmen sufficient. Consult thou with my mathematicians as to the distance to the red star, and as to the densities through which the ship shall pass, and as to the power required, and the time of the journey, and provide thou all things sufficient therefor.
Oahspe God's Book of Eskra: Chapter XLIII:
1. WHEN Joshu was grown up, and ready for his labor, God provided a host of one hundred million angels to make a line of light from his Holy Council down to the earth; and they so made it.
2. And God provided a guardian host of two thousand million angels to protect the line of communications; for it was war times in heaven and earth.
Communications from space to earth via a direct line of light (electromagnetic wireless communications).
Caption: Communications satellite. Computer illustration of a communications satellite in space orbiting above the Earth, with green communication signals seen. The satellite has solar cell arrays (blue) to produce power, and a rounded dish antenna to receive and transmit communication signals. These satellites act as relay vehicles for radio signals. Typical communication satellites orbit with the same period as the rotation of the Earth at a height of 35,700 kilometres and appear to 'hover' above the same point at all times. Communication satellites are used to relay telephone and fax messages, computer data and to broadcast television signals.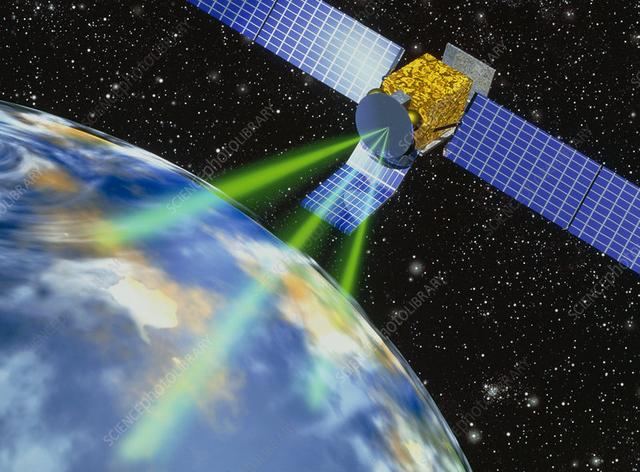 bell curve in Science:
A symmetrical bell-shaped curve that represents the distribution of values, frequencies, or probabilities
of a set of data. It slopes downward from a point in the middle corresponding to the mean value, or the
maximum probability. The Gaussian or normal distribution is a mathematically well-defined bell curve
used in statistics and in science generally.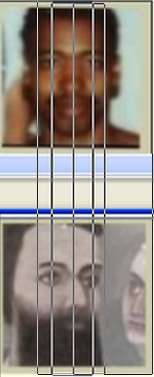 11 Projection lines above show the similarities between two faces.


Above are 3 images comparing the very high similarity of the forehead, eye brows, eyes, cheeks, nose and mustache of the Israelite Prophet and Lawgiver Moses and StudyofOahspe.com author Mike James.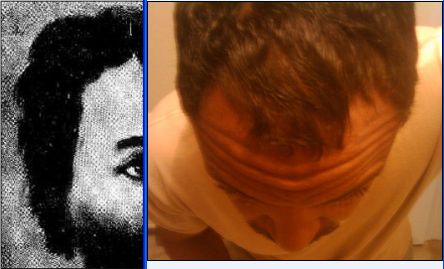 Above on left is Moses with bushy wavy short hair, on right Mike James with natural bushy wavy short hair.
Both are very similar in appearance with copper colored skin.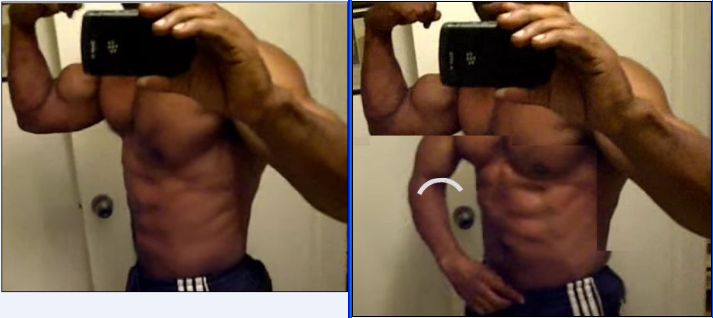 -