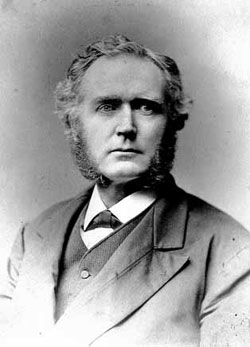 John Ballou Newbrough the instrument through which OAHSPE was written. "The big differerence from all other psychically inspired books, to my knowledge, is the unique fact that its spiritual authors did not transmit the book through Dr. Newbrough's mind--but controlled his hands and arms, and typed the entire contents of the huge manuscript independent of his consciousness--so that he could not interfere or alter or color its contents...Newbrough was ordered not to read what had been transcribed through manipulation of his hands on an early style typewriter, until the whole manuscript was finished, which required over a year. It must have required unusual discipline for Dr. Newbrough to keep on compiling typed page after typed page, without being tempted to read what was being recorded. For him to have done so would have had an adverse influence on its transmission." - From Harold Sherman who was President of the ESP Research Associates Foundation and a member of the Advisory Board of Belk Psychic Research Foundation.
-
Page 37 of The Universal Cycle Theory (2011) by Stephen J. Puentz and Glenn Borchardt, PH.D. ..."sadly a new scientific truth does not triumph by convincing
its opponents and making them see the light, but rather because its opponents eventually die, and a new
generation grows up that is familiar with it."
-
-
"you have obviously delved into Oahspe in great detail but trying to find people with the intelligence and motivation to do what you have done would be very rare." - Donald B. November 07, 2015
-
"Read Oahspe 35 years ago, changed my life. Keep up the good work!" - Paul Barnes, November 27, 2017
-