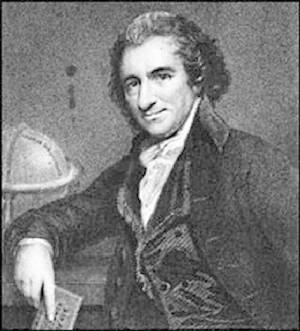 Thomas Paine
• COMMON SENSE
(1776)
Paine's call to arms for America.
• THE AMERICAN CRISIS
(1776-77)
"These are the times that try men's souls."
• THE RIGHTS OF MAN
(1791-92)
Paine's reply to an attack on the French Revolution by Edmund Burke.
• AGE OF REASON
(1794, 1795, 1807)
Paine's biting Deist criticism of the Bible and the church. In three parts.
http://ecx.images-amazon.com/images/I/415YP8AEJ1L._SX293_BO1,204,203,200_.jpg
https://www.amazon.com/Thomas-Paine-Apostle-Jack-Fruchtman/dp/1568580630