Oahspe Book of Wars Against Jehovih: Chapter VIII :
5. And it came to pass that Ailkin was raised into a new heavenly place, called Vara-pishanaha; and in the removing, behold, Ahura ordered Anuhasaj from the line because of his inharmony. And Anuhasaj suffered himself to become angered.
6. Satan (self) said unto Anuhasaj: Who art thou, that one of less wisdom ordereth thee? Anuhasaj said: Alas, I am a fool, and without will to assert myself.
https://sacred-texts.com/oah/oah/oah274.htm
1. the self; the individual as self-aware
Synonyms: self-esteem, self-confidence, self-respect, self-image More Synonyms of ego.
https://www.collinsdictionary.com/us/dictionary/english/ego
Ego threat is a potent instigator of anger and aggression.
https://www.sciencedirect.com/science/article/abs/pii/S0191886905004216
Most problem-anger originates with ego vulnerability, i.e., someone says or does something that offends your ego or makes you feel devalued. The best way to eliminate ego vulnerability is to strengthen, through determined behavior, your sense of who you are, specifically: What you believe about yourself. Jan 17, 2015 https://www.psychologytoday.com/us/blog/anger-in-the-age-entitlement/201501/anger-and-vulnerability
"If ego is the voice that tells us we're better than we really are, we can say ego inhibits true success by preventing a direct and honest connection to the world around us… The ways this separation manifests itself negatively are immense: We can't work with other people if we've put up walls. We can't improve the world if we don't understand it or ourselves. We can't take or receive feedback if we are incapable of or uninterested in hearing from outside sources." https://medium.com/@ameet/why-ego-is-the-enemy-and-what-we-can-do-about-it-a4eae45a81d8
Oahspe Book of Wars Against Jehovih: Chapter VIII :
7. For many years Anuhasaj became a wandering spirit in heaven, going from kingdom to kingdom, doing nothing; and at times descending to the earth, observing the kingdoms of the earth.
8. Satan came again to him and said: Hear thou my voice, and thou shalt triumph over all other Gods. Anuhasaj said: What shall I do? And satan said: Go thou to Ahura, who offended thee in presence of the Chieftainess, Cpenta-armij, and say to him: O God, I crave thy forgiveness. Thou wert right, and I was wrong. I have repented most bitterly. Now I come to thee, with faith in Jehovih. Him will I serve forever. Turn me not off, O Ahura; remember thine own one-time shortness; and the high Gods above thee accepted thee.
9. Satan continued: Ahura will delight in thee and take thee at thy word. And thou shalt enter Vara-pishanaha, asking for the lowest of places; practicing humility in all thy behavior. But be thou fruitful in making acquaintances with such as shall serve thee afterward.
10. Satan continued: And whether it be fifty years, or a hundred, or two hundred, bide thou thy time. But the time shall surely come when thou shalt be exalted; and thou shalt solicit and accept a place in the dominions of the Lord God in the Lord-dom of heaven and earth, Maitraias.
11. Satan continued: And whether it be one hundred years more, or two hundred years, it mattereth not to thee; but thou shalt finally attain to the Lord-dom, and be duly installed and crowned Lord God of heaven and earth.
12. And when thou art thus exalted, thou shalt seek to have appointed such Lords to the ten divisions of earth as are thine own special friends. And it shall come to pass that the whole earth and her heavens shall be thine, and thy title shall be Lord God, and all people on earth and in heaven shall be thy servants.
13. Anuhasaj said: Thou art the wisest of Gods, O satan. All thou hast advised will I do; neither shall any one in heaven or earth know my designs.
https://sacred-texts.com/oah/oah/oah274.htm
Is the voice in your head your ego?
The voice in our head is the voice of the ego. The self we think we are, which is different from the true self. The ego is a version of ourselves that is concerned with individual identity and survival.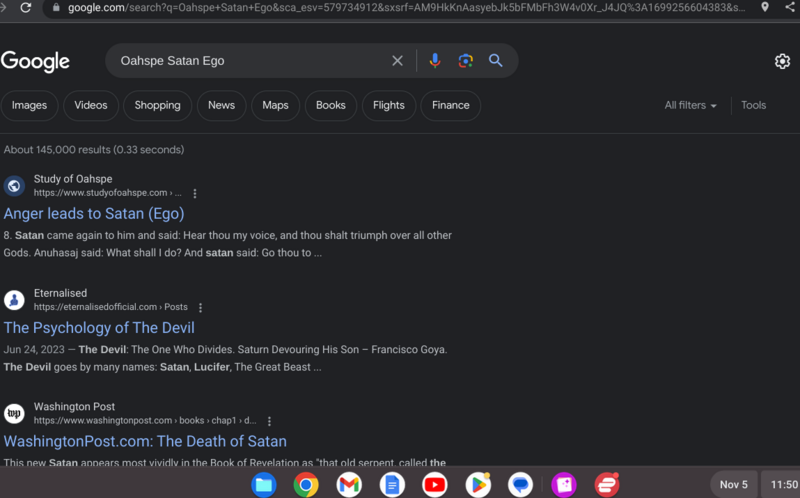 Google search results (for Oahspe Satan Ego) above on Nov 5, 2023 showing studyofoahspe.com is the number 1 (and possibly only) website or Internet post (at that time or before) to name Satan as Ego in Oahspe. Defining Satan as the Ego will give new Light to the meaning of the devil in the Bible (see text below).
Matthew 4:8-9
King James Version
8 Again, the devil taketh him up into an exceeding high mountain, and sheweth him all the kingdoms of the world, and the glory of them;
9 And saith unto him, All these things will I give thee, if thou wilt fall down and worship me.
https://www.biblegateway.com/passage/?search=Matthew%204%3A8-9&version=KJV
Oahspe is a great psychology book. Oahspe in 1881 identified Satan as self, the Bible does not identify Satan or the devil as self, this is why most Jews, Christians, and Muslims think Satan is another person outside yourself. Psychology is a science.
Oahspe Book of Cosmogony and Prophecy Chapter VII: 18 the number

666

(mark of the beast ) is associated with the word

Foe

:
an enemy or opponent.
synonyms:
"
Without
a foe

a
soldier
never
knows
his
strength
, and thought must be developed by the exercise of
strength
. And so
this carnal nature soon became a foe
that man must fight [adversary], that he might be the strength of God made manifest." - The Aquarian Gospel of Jesus the Christ by
Dowling, Levi H
http://prem-rawat-bio.org/library/aq/aquariangospel.html
The false Lord God Anuhasaj, who first made the names Lord, Lord God, and God, De'yus and Deity, worshipful on the earth. Before that time man worshipped the Creator under the name Great Spirit. In the Book of Wars against Jehovih a full account of this false Lord God and his Sub-Gods Osiris, Te-in, Sudga, Baal, and the one great Goddess Ashtaroth, is given. They are all finally cast into hells, and in time rescued by the higher angels.
https://www.angelfire.com/in2/oahspe3/moprosp.html
Below is the earliest source I could find that connects Anuhasaj in Oahspe with Anu of the Anunnaki on YouTube posted by the Oahspe scholar and faithist Selah Shalom (who I reference many times on my website because he does an excellent job of teaching Oahspe on his YouTube vids) on Mar 13, 2013 and you can hear him make the connection between the Sumerian Anunnaki and Anuhasaj in Oahspe from 18 seconds to 24 seconds into the video link below. Selah Shalom is one of the best sources for historical and religious knowledge on Oahspe.
https://www.youtube.com/watch?v=1zfy28mgt9o&t=1s
Above is a Google Screenshot taken on 10-03-2023 at 7:11:04 PM of a Google search of Anuhasaj Anu Oahspe anunnaki and the top result was studyofoahspe.com page titled The Bible, Jesus, Joshu, Essenes, Anunnaki. Another Google search screenshot of the same key words as above was taken on Oct 5, 2023 with only 2 results returned in 0.38 seconds. The top result was again studyofoahspe.com, and the second result was a excellent website about Zarathushtrians and Hinduism and Oahspe.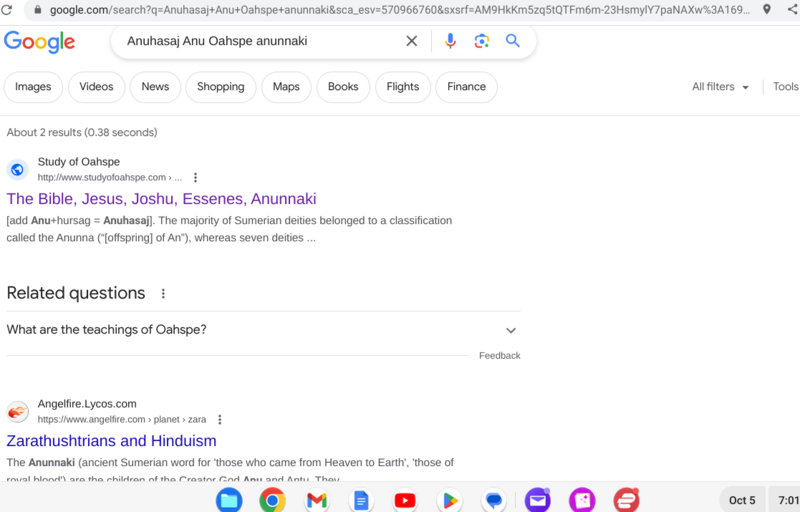 https://www.angelfire.com/planet/pp0/zara.html (link to 2nd key words Google search result above).
NOV 01 2016 :
https://web.archive.org/web/20161101153813/http://studyofoahspe.com/id21.htm
In link above more than 1/2 way down from top of page is info about Anuhasaj Anu Oahspe and anunnaki. The page contains the quote below I received from an Oahspean Faithist in Texas dated May 19, 2016 :
"...upon reading passages of Oahspe about the fallen god Anuhasaj with his servant Anubis, and being inundated with new agers who constantly talk about the Anunnaki, it just occurred to me. I've looked up Anu on Wikipedia and he was the earliest of the Sumerian sky gods, king of the gods, lord of the constellations, spirits, angels, etc., and supreme ruler of the kingdom of heaven. It could very well be Anuhasaj" - Michael W. 05/19/2016.
Below is a Screenshot of YouTube search result of key words Anuhasaj Anu Oahspe anunnaki taken on Oct 05, 2023 at 7:29 AM. The top result does not reference Oahspe or Anuhasaj, the second result does reference Oahspe and Anuhasaj but is a audio book word-for-word robot reading of Oahspe posted Dec 25, 2011 by Matthew Johnson who does not make the connection between Anuhasaj in Oahspe with Anu of the Anunnaki.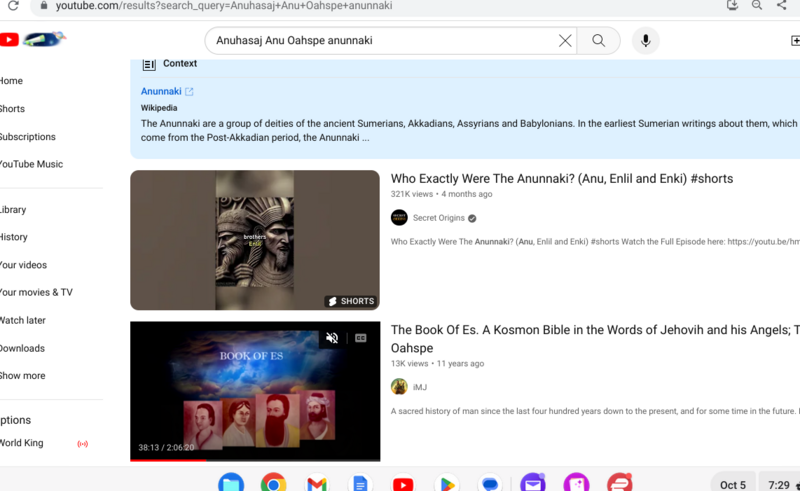 https://www.youtube.com/watch?v=7J5mizaYilI (audio book word-for-word robot reading of Oahspe with no original concept or discovery).
Oahspe Book of Judgement: Chapter XVI :
9. But I say unto thee, all these are but the subterfuges of satan (self), to palm off words for works.
20. It hath been said of old: Do unto others, as thou desirest should be done unto thee; also, to return good for evil, and to sell all thou hast, and give to the poor, and love thy neighbor as thyself.
21. And these words are well known; but who is there, that practiceth them?
22. Wherein the words are impotent and of non-effect.