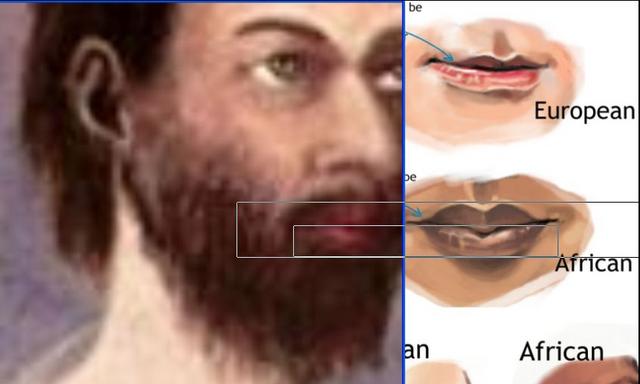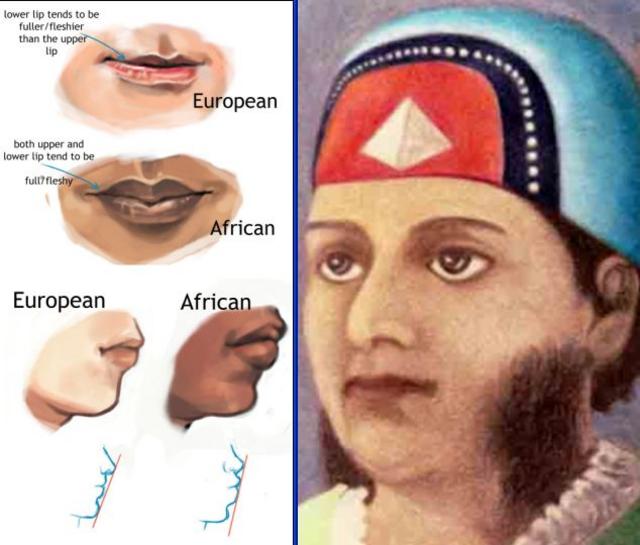 https://www.pinterest.com/pin/113927065553944241/
The Israelite Joshu has African (negro) lips, and the Egyptian Thothma has European (caucasian) lips.
I am not saying Joshu in Oahspe was black (negro) but according to the drawings of Newbrough, Joshu had significant sub-Saharan African genes like 50% of brazillians, like the average Puerto Rican (29%), or the average Ethiopian (60%), this also agrees with the facial recognition results.
Brazil census shows African-Brazilians in the majority for the first time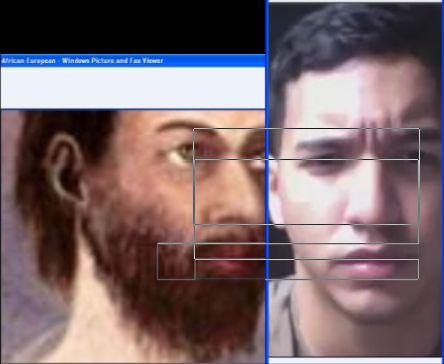 Both Joshu of Oahspe and JO EL (Puerto Rican) of Youtube (above) have African Lips.
JO EL according to DNA testing has 27% African DNA (8% Ivory Coast/Ghana, 7% Senegal).
https://www.youtube.com/watch?v=39A9rk_1CXU (JO EL Ancestry DNA Results).
In a "women in the diaspora" study, Puerto Rican women born on the island but living in the United States were shown to be 53.3±2.8% European, 29.1±2.3% West African, and 17.6±2.4% Native American.
https://liorpachter.wordpress.com/2014/12/02/the-perfect-human-is-puerto-rican/
-----------------------------------------------------------------------------------------
Sunday, December 17, 2017
I said:
"The Oahspe states the Europeans are the Israelites, in other words the whites. The migration of Israelites, went though Israel and then toward Europe."
The Oahspe states that the original Israelites were I'huans (such as Abraham and Moses) Europeans are Ghans. When the I'huan Israelites migrated through Europe they mixed with the Ghans and the I'hins that were already in Europe, and so Europeans contain Israelite DNA, but they are not pure or original Israelites. Do you know what people are the closest to the original I'huan Israelites?
Addendum: Oahspe God's Book of Eskra 50:
27. Now, in reference to the Faithists: ...In
Arabin'ya [including all of Africa]
, Heleste and Uropa, they were
scattered in all directions
.
28. And these
called themselves, Israelites and Jews
.
30. Now after the fall of the great empire, Egupt, her people migrated westward, hundreds of thousands of them, and they settled in western Uropa,...
There were Israelites and Jews in Arabin'ya [including all of Africa] that were scattered in all directions before the Egyptian people migrated westward into Europe.
Oahspe First Book of God Chapter 11:
23. Now when Abraham and his people came into Arabin'ya, especially into Egupt, ...
when Oahspe refers to

Arabin'ya

, it includes a large area of land which

covers all or part of Africa and what is now the Middle East to Iran

.

------------------------------
Addendum:
Oahspe says "
Egupt, her people migrated westward
...
and they

settled in western Uropa
", Oahspe makes

a distinction between Egyptians and Israelites

. The Israelites were slaves to the Egyptians. Thothma was an Egyptian Ghan who was NOT an Israelite.

------------------------------


Moses (above) matched to 3 mostly sub-Saharan African faces with super-extremely high results of 91%, 88%, 87%.

Abraham (above) matched to 3 different mostly sub-Saharan African faces with extremely high results of 85%, 83%, 80%.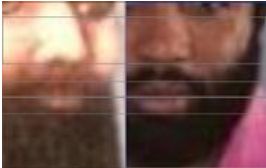 Above Mexican-American music legend

Carlos Santana

at the 6:29 mark of the video says to African-American Clarissa Shields "you got to come to a concert and see my wife play drums ...I am saying this from my heart, when you hear our music you start to cry and laugh and you don't even know why, that's because

its the spirit in our music and its purely African music, that's

all I have played

...and when you come celebrate with us we can change this world from fear to joy." And when Carlos Santana is asked (at the 7:11 mark of video) who is your favorite fighter of all-time, Carlos Santana says "
Jack Johnson
". Below is Jack Johnson from 1908 face matched to the Israelite Johsu (78% match, higher than Keanu Reeves and Rodrigo Santoro according to Betaface):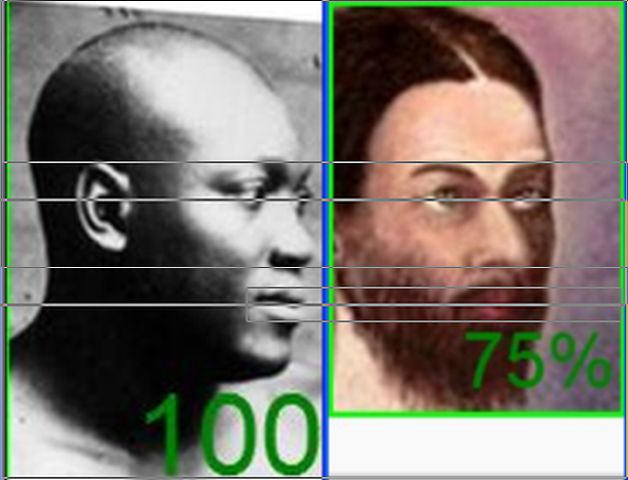 The two men above (Jack Johnson and Joshu
) have

very similar African facial features

.

Joshu (above) matched to 3 different mostly sub-Saharan African faces with extremely high results of 89%, 86%, 85%.
-
The

African focus on fractals emphasizes their own cultural priorities

: it can even be heard

in their polyrhythmic
music in the world

. Rhythms and counter rhythms

in the common African tradition

of call and response complement
and communicate with one another with different drum lines, other musical instruments, bodies and voices
contributing rhythmic elements. This element of instrumental call and response is

also evident in the polyrhythmic
Drums of Passion, which was a collection of

traditional Nigerian music

for percussion and chanting. The album
stayed on the charts for two years and had a profound impact on jazz and American popular music.[citation needed]
Trained in the Yoruba sakara style of drumming, Olatunji

would have a major impact on Western popular music

.
[citation needed] He went on to

teach, collaborate and record with numerous jazz and rock artists, including Airto
Moreira, Carlos Santana and Mickey Hart of the Grateful Dead

. Olatunji reached his greatest popularity during the
height of

the Black Arts Movement of the 1960s and 1970s

.


Among the most sophisticated polyrhythmic music in the world is south Indian classical Carnatic music

. A kind of
rhythmic solfege called konnakol is used as a tool to construct highly complex polyrhythms and to divide each beat
of a pulse into various subdivisions, with the emphasised beat shifting from beat cycle to beat cycle.

Mwari also known as Musikavanhu, Musiki, Tenzi and Ishe, is the Supreme Creator deity according to Shona traditional religion. It is believed that Mwari is the author of all things and all life and all is in him.The majority of this deity's followers are concentrated in Mozambique, South Africa, and Zimbabwe. Mwari is an omnipotent being, who rules over spirits and is the Supreme God of the religion.
The same deity is applied and also referred to as Inkhosi in Northern and Southern Ndebele, and it is this deity that is worshiped in African Traditional Religion whereby people worshiped through the ancestors via Spirit Mediums who were believed to be inspired by the spirits of truth which were believed to connect to the deity to deliver messages and divine guidance.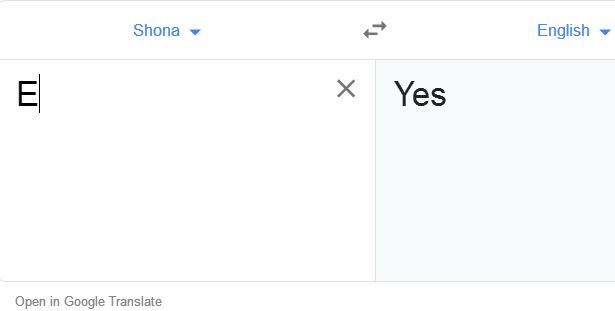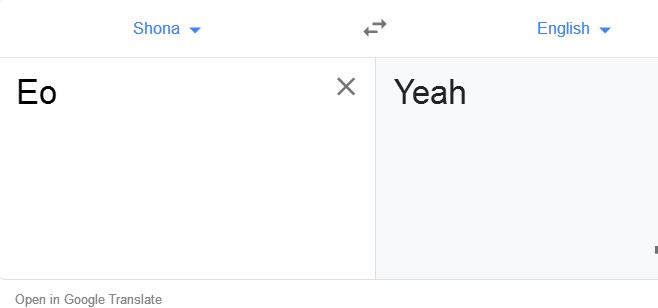 Eo vowels in traditional African Shona translates as Yeah in English (see above Google translate).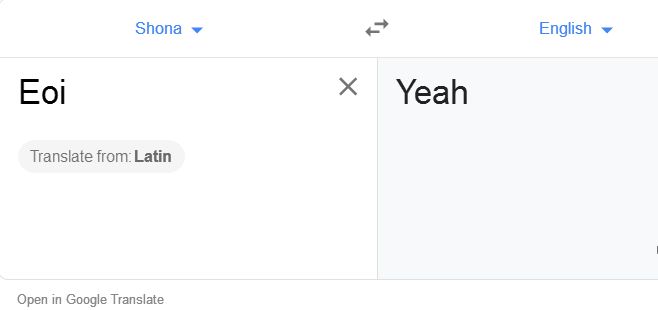 Eoi vowels in traditional African Shona and Latin translates as Yeah in English

(see above Google translate)

.
No = False, non-existence, Is not or AM Not

.
God's Book of Ben: Chapter III:
7. God said: One only
is Truth, Jehovih
. All else are false.

Eoi vowels in Latin translate to Hebrew (see above Google translate).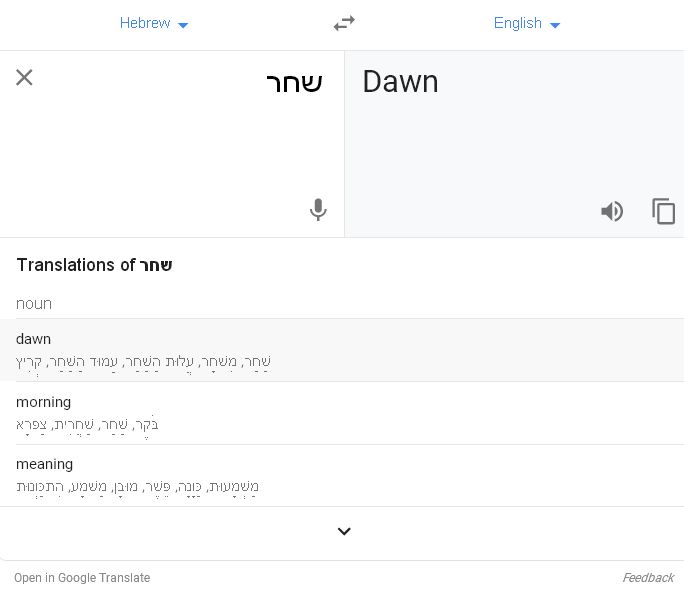 Hebrew translation of Latin Eoi to English Dawn first Light (the All-Light)

(see above Google translate)

.

Names of Creator in Oahspe (see above). Ormazd = Master Light.
-
The Creator is an invisible force or Spirit. In physics
that which is the most powerful has no
form or shape and is invisible
like electricity or energy or the wind. Different from the Big Man
in the sky or the Sky Gods. That which is All-Poweful is also Omni-present which is the All-Person.
-
Oahspe The Lord's Fifth Book: Chapter VI:
14. But
man forgot the Creator
because of the wonder of His works. Even
to this day
man inclineth to view as substantial and real, things that are seen, and to reject
the All Potent, which is Unseen
.
Deontay Wilder -
To This Day
REMIX - YouTube (below).

In Oahspe Index it says Anglo-Saxon word applied to Israelites to this day is Odius.
Definition of

odious

:
: arousing or deserving hatred or repugnance : hateful
https://www.merriam-webster.com/dictionary/odious
Oahspe - Book of Lika, Son of Jehovih: Chapter IV:
4. For thou shalt find My chosen a scattered people, persecuted and enslaved, the most despised of all the races of men. But I will show My power with them; I will raise them up; the things I do through them, and the words I speak through them, even in their ignorance and darkness, shall become mighty.
8. But

My chosen, who are their slaves, and are as nothing in the world

, shall speak, and their words shall not be forgotten; shall write, and their books will be a new foundation in the world. Because

My hand will be upon them, My wisdom shall come forth out of their mouths

.
-
Any comments about Oahspe or this website?
Email Me
. I look forward to talking to you about Oahspe and this website