Book of Saphah: The Basis of the Ezra Bible
28. Thus was substituted Lord God (Land God) for Jehovih (
called sacredly, E-O-Ih
), and as the Great Spirit had been heretofore
taught to the Israelites as an inconceivable entity, WHOSE FORM AND EXTENT no man could attain to know, so was He now transformed and declared to be in the form of a man, and having a residence in the firmament of heaven. Thus they made the Great Spirit merely an idol; thus they began the overthrow of the holy doctrines of Moses
.
http://www.sacred-texts.com/oah/oah/oah438.htm
-
"If the author, Susan B. Martinez, Ph.D., is correct, an 890-page book called "Oahspe" is the best kept secret in the world. But it is not supposed to be a secret. It was intended to be as well known as the Bible and provide answers to humankind on all life's mysteries, including the history of the planet, the history of the human race, the fate of man, and countless other matters pertaining to the nature of man and the purpose of life."
http://www.amazon.com/The-Hidden-Prophet-Ballou-Newbrough/dp/1449505511
-
Page 37 of The Universal Cycle Theory (2011) by Stephen J. Puentz and Glenn Borchardt, PH.D. ..."sadly a new scientific truth does not triumph by convincing
its opponents and making them see the light, but rather because its opponents eventually die, and a new
generation grows up that is familiar with it."
-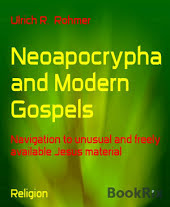 Neoapocrypha and Modern Gospels: Navigation to unusual and freely ...
OAHSPE: Book of Judgment CHAPTER XXV:
11. Whereby, when a prophet foolishly boasteth to thee, as to having some high-raised angel,
with a loud-sounding name, as his special guardian and guide, know thou such prophet is
in the hands of drujas, who have not entered my heavenly kingdoms.
12. Neither hath it ever happened on the earth with any individual man, raised up by
me or my Lords for a specific work, like Moses, or Ka'yu [Confucius], or Sakaya, or any
other, that they knew of or boasted of any especial angel over them; but all of them
experienced the light, which was as a pillar of fire. Here Oahspe warns us about anyone
who says they are in contact with or have a guardian or guide such as St. Germain,
Babaji, Ashtar, El Morya, Moroni, Mithra, Orthon, Ashtar, Semjase, Aura Rhanes,
Solgonda, etc......
Oahspe is not only a book about science and facts about the universe, it is also an owners
manual on how to recognize spiritual deception.
While the higher angels (the Ethereans) will not let their name be known to the mortals
they are in contact with, the lower angels (the false Lords and Gods) like to take
the name of a God known on the earth from thousands of years before (like the
false Osiris took the name of Osiris the first that came before).
-
Page 301 of _Darkness Dawn and Destiny_ (Drawn from Oahspe) 1965, Regency
Press, London by Augustine Cahill says "The higher angels themselves live in the
kind of society (pure in body and spirit) which they propose now to establish on earth.
They come to us anonymously as members of a heavenly brotherhood dedicated
to this service."
"They come to us anonymously", meaning they don't identify themselves,
-
Luke 1:19 ESV of the Bible:
And the angel answered him, "I am Gabriel. I stand in the presence of God, and I was sent to speak to you and to bring you this good news.
-